Probinsya ng Dinagat Islands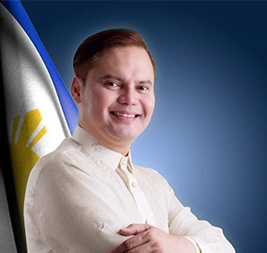 Honorable
Benglen B. Ecleo
The Heartworking Vice Governor
Benglen Bury Ecleo is the scion of the South Mysterious Superstar, the Undefeated Municipal Mayor of Dinagat, the President and Founder of the renowned and prestigious association, the Philippine Benevolent Missionaries Association, Incorporated, and the Province of Dinagat Islands' Local Hero Divine Master Ruben Edera Ecleo, Sr. and Dr. Glenda Bury Ecleo, the Iron lady of Dinagat Islands, the champion of education for Dinagatnon youths, and the mighty solon who fought in the House of Representatives in her quest for the province hood of Dinagat Islands and the creation of San Jose into a Municipality by virtue or R.A. 9355 and R.A. 6769, respectively.



He saw the first light in Gitagum, Misamis Oriental, his birthplace and hometown of his mother. Molded by his parents' principle of righteousness and divinity, young Benglen rose with virtues and kindness with his peers, playmates and relatives and even paying respect to elders and siblings.



He strides his first day in school in 1972 at the University of Visayas and graduated his elementary studies in 1976. His high school days was completed in 1983 at the University of San Carlos, and proceeded his college degree of Bachelor of Arts in Economics at the Colegio de San Juan de Letran, Entramuros, Manila, and finished his Master of Arts in Education (MAEd) at Agusan Institute in 2002.



He was tongue-tied to say how fortunate other children who graduated with cheers, laughter and pride together with their parents in contrary Benglen oftentimes missed the presence of his parents who are always busy in serving the people more than giving time and care to their children.
He learned how to be independent, firm and steadfast in order to survive somewhere in the United States of America where he experienced life both sadness and gaiety. A life in America where most Filipino people wishes to and a true life of Filipino people in America they had experienced.

Benglen got his first job as School Treasurer at Don Jose Ecleo Memorial Foundation in 1991, and became a Board of Trustees then in 2019 to date he was appointed as the Vice President of the same school.

Having an experienced on financial and human resource management, Benglen opted to tread the world of politics. In 2004 he was elected as the municipal Mayor of the town of San Jose where in almost eight (8) years of his incumbency, he was decorated as the Most Outstanding Mayor of the Philippines PAR Excellence, Gawad Parangal ng Bayan/Gwad International, Inc. (March 25, 2005), Gawad Parangal ng Bayan/Gwad International, Inc. (December 18, 2005) and Lingkod ng Bayan: Most Oustanding Mayor of the Year (November 27, 2005).

He was then elected as President of the Dinagat Islands Association of Local Government Units (DIALGU) among the seven (7) municipal mayors of Loreto, Tubajon, Libjo, Basilisa, San Jose, Dinagat and Cagdianao, all belongs to the First District of the Province of Surigao del Norte.

When Congresswoman Glenda B. Ecleo of the First District of Surigao del Norte filed House Bill No. 884 known as An Act Creating the Province Dinagat Islands, in 2005, DIALGU President and San Jose Mayor Benglen B. Ecleo spearheaded the petition before the House of Representatives. On October 2, 2006, Her Excellency President Gloria Macapagal Arroyo officially signed Republic Act No. 9355 Creating Dinagat Islands into a Province.

In 2013, Benglen catapulted in the position as Provincial Governor of Dinagat Islands. Steering the cudgel of legislative leadership, Vice Governor Benglen Ecleo, as the regular presiding officer of the legislative body of the province, the Sangguniang Panlalawigan, laid down the essence of quality legislations the sangguniang panlalawigan members may propose in consonance with the Philippine Development Plan, Provincial Development Plan, and the Executive Legislative Agenda.

Now, he was elected as the Public Information Office of the League of Vice Governors of the Philippines (LVGP) after he regained his position as provincial vice governor during the national election on May 11, 2022. The Heartworking Vice Governor spread his wings to all Dinagaton. Embracing them with the heart for Dinagatnon youths to fulfil their dreams and aspiration in life by completing their studies and landed a job; for farmers, fishers and micro, small and medium entrepreneurs, a conducive night market is established for trading goods and services; enhancement of our local legislators in legislating ordinances and resolutions, and many others.

The Heartworking Vice Governor Benglen B. Ecleo is on the verge of contemplating why his father, the Local Hero of Dinagat Islands, and his mother, the author of R.A. 9355 always raised this Wisdom, "Love and serve the people, because serving the people is serving to God".
Ang schedule sa State of the Province Address sa atong Governor Nilo P. Demerey, Jr., na-move sa alas 10 sa buntag, Oct. 1, 2023 sa